1. Sable and Bandit 2. Dreamy Sable 3. "Big Boy" Bandit
Enjoy and we hope you all are having a Merry Christmas and a Happy New Year!
Charlie and Vivian
---
Annette,
I just wanted to let you know how much we are enjoying little "black and tan". He should soon have a name but this little guy is full of personality, loving all of our other animals and really making himself at home. You should see him run in the backyard with our 11 year old, 48 pound Border Collie!
Our first night was a bit hairy and he had some trouble settling down, but last night was a great improvement. I do not think it will take long for him to learn he is in a good place. He has learned the potty training very quickly and really is a smart little guy.
I thought you would want to know he is doing great and we love him. Kaleb, the Border Collie, has been so funny. He is sleeping right beside the crate and whenever the little one cries in the night, Kaleb comes running to tell us we need to do something!
We enjoyed getting to know you and will keep you posted on our progress. Thanks for sharing your special pups with us; it is clear he will enrich our lives and be a special addition to our family.
Bev and Whitney Reep
03/10/2009
---
Hello, I wanted to send u some pictures of Bryce and Bry'onna. I bought both of them from u. And I just wanted you to see my babies.
---
Annette,
Hi this is Cherie Kirks. We changed Cupcakes name to Daisy. One week home and she is wonderful. The kids are having so much fun with her. Training is underway for"NO" and going outside for the potty.

She still does not bark I think I heard her once but that is great, My husband loves that about her. We are going to take her for her first outing today to Grandmas house so I'll see how she does. she is used to putting on her harness. Did her registration papers come in yet?
Thank you so much,she is a joy.
Cherie
---
Color in pic is bad but she really is a beautiful color EAH 01/31/2009
---
Here are a couple pictures of our new addition. His name is Cody and he is 10 weeks old. A Merle Sable Pomeranian. Keeping us busy. 14 weeks old now. Lots of energy!
Doris
---
Hello! I wanted you to see some of the recent pictures of Karma! She's brought me so much happiness, and I can't thank you enough for all you've done for us.
-Anna and Karma
---
Here are some Pictures of Bryce.
---
Hi Annette,
I'm sorry it took me so long to take pictures of Mimi (Destiny's baby) but she is so full of energy that I could barely snap a shot. Here are a few pics I was able to get. She is such a sweet puppy and we love her so much! She always gets compliments where ever she goes. I'd like to get more of your cards so I can refer you since everyone keeps asking me where they can find a pom like her.
We are planning on getting another Pomeranian for her to play with. So I was wondering if you have any Pom puppies available sometime in August. I hope all is well with you and thank you for taking such good care of our baby. She is truly a joy!
Hope to hear from you soon!
Laura, Alex, & Mimi
---
Hey Annette,
I was looking at your website and saw all the pics and notes from other people who have adopted your puppies and wanted to drop you a line and some pictures so Gracen's pics could be there, too. Everyone that has met him has been so impressed by his beautiful coloring and his pleasant personality. He brings smiles to everyone's faces, and it is such a blessing to see how well he interacts with people, especially my students! Keep raising spoiled pups!! We love ours!
Here are some pics. Both ears are standing up now! Let me know if you aren't able to open these pictures, and I can resend them.
A Fellow Servant,
Joel
---
Hi Annette,
Caleb had his 2nd Vet visit today. He is now 4.7 lbs and doing great. No heart murmur was detected. He is very friendly and loving so is making friends quickly at the Vet's office.
He is officially transitioned to Eukanuba and loves it. I'm saving the bag of Pro Plan to bring to you when Caleb goes to visit in October.
We solved our pouch pad challenge by buying washable ones (he was shredding the disposable ones) …the washable ones are much more durable and he has not been able to shred them (not yet anyway).
Oh…we received the AKC paperwork today…thanks!
I've attached a picture of little Caleb so you can see his "smile". He always looks like he's smiling…)
Caleb is such a blessing and a very special little dog. Even Dr Betsy can see it and suggested I consider training him for Animal Assisted Therapy work. It was nice to hear her say that since it is my goal. It's always nice to have confirmation…
Hope and pray all is going well with you and your family. Thanks for Caleb he is truly a gift from God.
Barb Albert
---
Annette, it has been over a year since we took home our little beaver baby Audrey, but I just wanted to write you to let you know how great our girl is doing and how much we love her! She brings us so much joy, and we couldn't even imagine any other pom being able to fill her shoes! I have an included some recent pictures of her, as well! She is about 16 months now.
Sincerely, Deena Aida and Audrey Pom
---
This is hilarious! She hates the booties, and just happened to yawn at the right time! She is simply the cutest dog ever! Little Diva on her raft!
Danielle M. Buirge
---
Hello!!
We got our new Baby Thursday and he is soooooo adorable! Paola just loves him and he loves her!! AND I mean Looooove! I will need to watch these two, haha! I have attached some pictures of our Little Lazaro (aka Laz) and my precious girl Paola with him. Let me just say that these pictures do not do him justice, because he is sooo tiny and fluffy. He looks like a little piece of hair floating across the floor when he walks. haha
Annette! Thank you so much, he is the cutest little guy ever! I will send you some cute pics of Laz and Paola dressed up in their duds! 😉
Danielle, Laz and Paola!
Hello!
Here is little Laz, I have to say he is so cute. Paola and Laz play so well together, like they have known each other for years! BUT, Paola is not to thrilled that Laz is a water bowl freak as you will see. There is no water bowl safe in our house anymore. Hahahhahahaaa Oh and the beds Laz and Paola are on, are the (Barkswaggin Bed, Chewnel #5 and Sniffany and Co)…ADORABLE and they love them! I know they are spoiled.
Danielle M. Buirge
---
Hello! I have been meaning to do this for a while now. I'm finally finishing up summer school with one exam down and one to go, so I'm trying to catch up on the things I haven't done in this down time. I hope you enjoy these pictures…I know I sure have enjoyed her. Thank you so much.
-Anna Shepherd
---
Thought you might like to see Bandit. He's weighing in at an even 10 pounds now! He is part of the family and quite the little prince here in Columbia SC!
In the absence of data opinion prevails
Betty Hawkins, CBCP, SCSPM
University of South Carolina
---
Sorry to hear you are under the weather, get well. Bailey has been amazing we have him in a 4 panel pet yard with his kennel and pee pad holder than under the rest is a washable pooch pad even if you have him on the carpet he will walk over to the pee pad. He will only do his business on the pee pad, when i put one in without the holder he did chew it. I got the holder at Petco online it's a small puppy size you have to buy the special puppy size pads you can also buy larger size ones at Petsmart. When he wakes up we go directly outside and he takes care of business then we walk around, he has no problem with the harness and leash. When we come in Katie plays with him for 1/2 to one hour than he goes in his pen and sleeps than we start over. He sleeps from 11p-5a, no whining about being in his pen Katie and I go upstairs and shower while he is sleeping. And you won't believe this but if you hold a treat over his nose and say sit he will 4 out of 5 tries,. Our only issue is nipping while we play so we are working on that we have tons of nylabones pig ears and hooves so when he gets nippy we redirect his energy to one of these. He weighed 3.3 pounds at our check up. He is just a great little guy though a bit to smart for his own good. And he barked once..Sure you may use our pictures Katie would love to see them at your site she loves to see the puppies and has me check daily for new pictures. So so far so good he's eating great and playing hard we look forward to some summer outings after he has had all his shots and rabies vaccine. Good luck with your new computer, Joe upgrades our's every couple of years I just figure out how to use all the new features than he changes them all again..bad news we are do to upgrade again. All for now.
Rebecca and Family
Just a quick note to let you know Bailey is doing great. He's house trained, will sit, down, and shake. His favorite place to hang out is under the cat stand ( see picture ). All for now.
Rebecca and Family
Hi Annette,
Bailey is doing great. He is no longer using the Pee pads, he only goes outside now, we have not had any accidents on the floor. He whines when he needs to go out. He loves to walk on the leash he stays right next to my side. He responds to come, sit and sit up for a treat. He does not seem to mind going out in the rain but does not like the cold so we have several sweaters for him. He is getting along great with Garth our senior kitty, Bailey will pounce right on him and my 20lb cat will just roll over and take the pouncing until Bailey leaves. Ginger still stays out of his reach but does not seem to mind him to much. Bailey loves the big purple ball and chases it around outside. All for now.
Rebecca & Family
Hi Happy Fourth.. Heres a couple pics of Bailey's Irish Jig, he loves to sleep in Kaitlyn's arms.. What a little character. He has lost about 9 baby teeth and is doing great, he's scheduled to be neutered this month. He's super sweet and loves everybody.
Take Care
The Bonneville's
---
Annette,
Oh, I forgot top tell you he is an avid boater as well, yes he has his life jacket and loves the boat. Thanks again for the love of our life together.
Carole
---
Annette,
I just wanted to send you a quick email to remind you that I will be bringing Scout by on Friday morning (July 14th) to stay the weekend (have a weekend with all her friends)…we will be back Sunday late afternoon/early evening (July 16th)…
Thank you so much for letting her stay, it is an enormous help! Also I wanted to see if I could get the name of your vet and his phone number so that I can get Scout's rabies shot and appointment to get
spayed…
Thanks again see you soon,
Kristen
I attached some pictures of her for you…enjoy!
---
I have been so tied up lately and forgot to give you an update on Boo Boo. I cannot describe to you how much joy he has brought not only my life; but my fiance's as well. He is so well behaved and love's everyone. Anybody who says chihuahua's are unfriendly should spend an hour with one of these sweet little guys. I bet their opinions will soon be changed. I don't know what you guys do but darned it works!
I have attached a photo of Boo Boo with my fiance Brandy. Can you believe he accepted her in less than an hour? He even let her around his crate/den area.
Thanks so much for all you do!
Customer For LIFE,
Matthew Ingram
---
Hello,
I just wanted to send you some pictures for your website, of my little guy. He continues to be just wonderful, I don't know what I ever did without him. He goes everywhere with me now, tennis matches and class included. Everyone who meets him falls instantly in love with him, nobody can believe how social and well behaved he is. I am taking him tomorrow to have a micro chip put in and to be neutered. I will talk to you soon. I attached pictures of him for you!
Michelle
---
Hey sorry it has taken so long to send you a picture of Skimo, but I just found my charger to my camera yesterday. It had been missing for months. So here is a picture of our baby and I will send more it just hard to keep him still long enough to get a pic. He still has a little bit of black on his back but he has mostly a red and white color like you see under his neck. I'll try to get some better pics of him.Talk to you later.
Rachel
---

Hi Annette,
Sorry this is so long in coming to you but I wanted to let you know Sasha is doing wonderful and has grown twice her size and is very healthy. Here is a recent pic of her with her BFF Chloe, who is a female kitten. They are holding hands and really love each other. Sasha is spoiled with a ton of love and we are so thankful we ended up with her. We call her "Saucy" sometimes when she is in a playful mood. She is such a good girl and is really a strong part of our family. We will keep in touch and send you more pics. Thanks again for such a doll baby!
Dale & Julie
---
Hi Annette!
I just wanted to let you know that I'm thoroughly loving my puppy. My husband named her Perky and she certainly is! My son Victor really adores her as well (as long as he doesn't have to do any kind of work – ha). I am taking her on Monday to my vet to get her next set of shots. I was wondering though do Poms get furballs cause she has been doing this random little cough like she may have a hairball or something. Otherwise she is very active and playful and eating and drinking normally. I am continuing her on the Pro Plan diet and we're doing pretty well with the housebreaking. She HATES when I go to work though. Wish I could take her with me. J I will send you some pictures after I pull them off my digital camera. Just wanted to let you know things are going really great! Sincerely,
Amy
---
I think we're chomping at the bit for the holiday!
Hugs,
Pat, Beauregard, and Jackson
---
I so wish you could have seen Poppi tonight; first off, does anyone in your family have the flu rightnow? The day after we brought Poppi home I developed a cough in the morning that progressed into a fever and cough by night time. In fact, the first night my fever was 103.5 then the next two nights about 102.7 and never dropping below 100 during the day. Tonight Luis started with it also so off we went to the doctors, we both have the flu and I'll be out of work another two days as will he. Anyways, back to Poppi. I went upstairs while Luis was downstairs on the couch and bless her little heart, after chewing on my fingers for a bit she wrapped herself over my neck and nuzzled her head down darn near in my ear! I finally had to move her and she curled up in my hair on the side of my neck. You know, you never seem to have a camera around when you need one. Which might be a good thing, I have no make up on right now and well, lets just say if I look as bad as I feel maybe it was for the best. I took Poppi to the vets yesterday and of course her feet never touched the floor. The doctor gave her the once over and short of a slight underbite she said everything looks great and told me that your care in breeding and raising these little guys really shows in her. She really has been a Godsend, I think my little Oliver (a fat 4lb Yorkie boy that passed away a few years ago) had something to do with her being here. There is just something very familiar and very special about this little girl.Well, I must go blow my nose yet again. I sure hope everyone there is feeling well and you didn't catch anything from me. Oh! How's the new tiny tiny puppy doing?
Take care and God Bless all of you,
Linda
---
Attached is a picture of Cody meeting Molly….They get along great.
Tina and Gregory
---
Hi Annette,
Our little boy is doing great. He is already basically crate trained and is a wonderful puppy. His personality is a perfect fit. Our only concern right now is that our other Chihuahua, Zoey hasn't taken to him
yet. She's acting put out and jealous. We are trying to show her extra attention and she seems to be coming around. She now tolerates him being around her (for a little while). All in all, we couldn't be more
pleased. We will send pictures shortly.
Thanks for everything!
Chris and Laura
---
Gracie and Me
---
Hey guys,
Here are some pictures of Onyx & us. We love him to peices! Thank you all again!!
Love, TJ & Shana
---
Thought I'd send you some recent pictures of Lilo…she is getting so big.
Right now, she has lost almost all of her puppy teeth. Thank you again for
giving me the gift of having her!
Laura Barnes
---
Hi Annette,
Just wanted to drop a line to say hello, and I hope that you have recovered and are doing well.
I wanted to give you an update on my PookyPoo Ceasar. Oh, –other than my son, he is the joy of my life. I just love him so, and he so spoiled. He is such a good puppy, and he is very smart. It hasn't taken
him long to learn things. He already scratches the door to go out at home. He is great on his leash. He likes to walk–well run/walk. He just thinks he is king of the world. He is so happy, and his eyes are always bright. He loves me so as well. He follows me everywhere, and he really knows what "no" means. hahahaha. He had his surgery 2.5 weeks ago, and did very well. His sutures came out this past Sat. I felt bad for a while because I had him fixed, I still feel a little sad about it, but I think he'll be fine. He's still as frisky as ever, and loveable. Everyone at work just adores him. Everyone that sees him, he just steals thier heart. I love him so, he is my PookyPoo. I'll send you a photo of him this evening. I am at work right now, so I'll have to wait until I get home. But I just wanted you to know how much in love I am with my Ceasar.
Thank you for him.
–Lisa Moser
---
We thought we'd send you some pictures of Jackpot. We love him!!
---
Hello Annette-
I got your message that you know Paola made it to her forever home safely. Annette, the pictures you sent did not do her justice! She is simply the cutest thing I have ever seen, and so full of personality just as you said. I just have to tell you that it has been such a pleasure dealing with you. She was so nicely packed with all her goodies, toys and food. You could just tell that she has been so loved since the day she was born, and my vet agreed. He said it was rare and nice to see such a young puppy that cared for. Thank you for her and all you do in taking such care to breed these special little gifts!! That is what Paola is to us, a true gift as her name professes.
The pictures I attached are of Paola making herself at home on her first day. She has claimed that she truly is the princess of the house, by barking and chasing Samson (our lab). It is the cutest thing to watch them play, although I am going to be an over protective Mom. Because I keep saying "Sam careful, no Sam do not play with her toys" poor guy he is wondering what changed in the universe so quickly. After playing she decided it was time to lay next to Daddy and take a nap. So she is doing well and we kissed and hugged her for you. She says thank you for taking such good care of her.
I will keep in touch as I am sure she will be very comical in her antics.
God bless!
Danielle and Paola
---
Hi Annette! Here are some updated pictures of our baby. He is doing very well… he is such a little character! He is extremely smart! I know that you miss him….but please know that he is being spoiled beyond belief! We are constantly on the go. I thought that you would like to see a picture of Peanut…he turned 1 on July 9th. We took him to have his picture made…he is the best little boy. We can't imagine what
our lives would be like if he was not a part of our family. God Bless!
Missy Balmer
---
Hey,
I just wanted to let you know that Kiwi is doing great! She is a loving and energetic puppy! She is a wonderful addition to our home! Matthew and I love her dearly! She has adjusted wonderfully, and we're having tons of fun! Thank you so much!
Ocean Brady
---
Sorry I haven't emailed you back sooner, we have had internet problems. We just got it fixed today. Our little baby is doing just fine. We named him Skimo. We are having a problem with him not using the bathroom where he is suppost to, but maybe he'll learn soon. We've had a lot of people on the base asking where we got him so maybe you'll be getting some customers from us. Don't worry about him, he is definately getting all the attention and love he deserves, and is spoiled rotten. I will send you some pictures soon, I promise. Thanks Annette for everything.
Rachel Kimbrough
---
Hi Annette,
I purchased one of your black pomeranians (Berenger) back in March. I wanted to ask if you have had any news about the other pups in his litter. Bear is nearly 6 months old and is already 15 pounds! He is
healthy and happy, which is most important, but I wanted to know if the other pups are as large. I have enclosed a few pictures for you as well. These are from a couple of months ago, but they are the only ones I have on my computer at work. He really is a beautiful little boy.
Thanks, Kristen
---
Dear Mr. and Mrs. Sellew:
Sorry it has taken so long to write, but we have been having such fun with our new baby that there just has not been enough time in the days. He is so precious and is constantly amazing us.
He watches a lot of cowboy movies with his pop…do you think he looks good "in character"?
His pop collects gemstones and jewelry…notice his sunstone necklace…Pop says it goes with his sunny personality! Beauregard has an appointment to get his next set of vaccinations on Tuesday April 4th, so he'll be staying right on schedule.
Thank you for everything,
Pat Day
---
Thought you might like to see a picture of Tinkerbelle and Peter Pan. Merry Christmas and God Bless.
Maria Flynn and family.
---
Annette, Sorry it has taken us so long to get these pictures to you, but here they are. Coco continues to grow every day. We are having a great time both watching this growth and continuing to provide her with love and care. Thank you again and talk to you soon.
James and Larisa
---
Hello Annette,
Ava is doing wonderfully! You sounded so busy, so I just took her to Wellington to get her 16 week round of vaccinations. She ended up swelling up above her nose, so I took her in as soon as that started and they gave her a shot of Benedryl and we gave her 1mg of liquid benadryl every 8 hours for 24 hours. I was scared but luckily we live literally 3 minutes from the vet, so they took care of her right away. She is fine now and back to her normal, energetic self. I would like to stop by sometime to see how you take care of her anal glands and nails. They did take care of her anal glands at the vet, but it would be much more convenient for me to learn myself. Most of the pics we have are from the first week we had her. I attached the most recent one, though. Ava came with me to my little sister's 18th birthday party picnic in Virginia. The picture is of my little sister holding her. Ava was quite a hit! She actually inspired our neighbors to get a chihuahua. His name is Bentley and he is only 10 weeks now and very tiny. But, they might be good friends in the future after Ava is spayed of course. I hope all is well with you. I'll be in contact with you about stopping by with Ava. Have a great week!
Ashley and Josh
---
Hey Annette,

I just wanted to send an update on my little girl. I named her Chiquita (like the banana) and she is doing wonderful. She pees on the potty pad, and occasionally poops there, so we are working on that. We are hoping to get enrolled on training soon. I attached the only picture I have be able to get of her so far…it's hard to keep her still.
Hope all is well, Latanya
"A man's heart plans his way, but the LORD directs his steps." – Proverbs 16:9
'Not that I have already attained or am already perfected; but I press on, that I may lay hold of that for which Christ Jesus has laid hold of me.' Philipians 3:12
---
HEY ANNETTE,
JUST THOUGHT I WOULD SEND YOU A FEW OF THE HUNDRED PICTURES OF BAILEY. HE HAS BEEN SUCH A JOY TO ME AND MY HUSBAND! HE IS SPOILED AND VERY LOVED! I HAD A HARD TIME FINDING HIM A SWEATER BECAUSE HE IS SO SMALL AND I'M SURE YOU'VE HEARD THAT A LOT SO I THOUGHT I WOULD TELL YOU WHAT I FOUND PETSMART HAS NOW STARTED CARRYING FERRET CLOTHES GOT BAILEY A FERRET SHIRT FITS GREAT EVERYWHERE EXCEPT THE LENGTH NOTHING FOLDING UP A LITTLE OR SEWING WON'T FIX. THANK YOU SO MUCH FOR MY BUNDLE OF JOY. TALK TO YOU SOON. I WILL SEND YOU A FEW OF HIM OUTSIDE THAT ARE GREAT.
JESSICA BEASLEY
HELLO ANNETTE. JUST WANTED TO WRITE AND TELL YOU BAILEY IS DOING GREAT! I LOVE HIM SO MUCH! WE JUST GOT BACK FROM OUR VACATION AND I HAD SO MANY PEOPLE THAT WANTED TO KEEP HIM WHILE WE WERE GONE BUT I JUST COULDN'T LEAVE HIM, SO BAILEY WENT ON HIS FIRST VACATION TO LAKE NORMAN. HE EVEN TOOK HIS FRST SWIM AND THAT WAS SO CUTE. I WAS LIKE A PROUD PARENT! LOL HERE ARE SOME PICTURES OF HIM ON VACATION THAT I THOUGHT YOU WOULD ENJOY. TALK TO YOU SOON. THANK YOU AGAIN FOR MY BABY BOY!
JESSICA BEASLEY
---
Annette,
Just wanted to let you know Madison is fitting in with the family wonderfully. Here are some recent pictures of her. She is getting along great with the other dogs and growing quickly. I just got in her AKC papers. I have her registered as Madison Bailey. Any new on the CKC papers yet? Hope you are doing well.
Michelle
---
Hello Mrs. Annette
ChaCha loves his home, and is in great care he is doing well, and is big and puffy. I wish i had a picture.
Owners of ChaCha, The Williamsons
Hello,
I have a couple of pictures of ChaCha attached. He is doing well and is so so so so funny.
Lauren, Shannon, Sam, Rick, and Tammy Williamson
---
Annette,
Just want to let you know that Maggie is doing fine. She is sleeping through the night( or at least is quiet), and lets me know its time to get up around 6AM. She has yet to mess her crate, and is practically paper trained after just 2 1/2 days. She is a sweetie, and shows signs of being a real "velcro" dog, lol.
Sherman, out Pom, is not sure what to make of her, but today, is showing signs of warming up. At least, he doesn't run and hide when she approaches him.
One thing we notice, is that she scratches a lot when she is on the floor. We have laminate flooring, so I don't think its allergies. We have looked for any sign of a flea, but haven't found any, and Sherman doesn't have any. It does seem to calm down by about 95 percent if you pick her up. Do you think it may be nervousness at being away from her prior home?
She is a wonderful puppy. Showing signs of being VERY smart. Such a joy to have around especially at Christmas. Thank you for such a treasure.
I hope you and yours had a wonderful Christmas.
Terry Neely
---
Dear Annette
Just writing to say hi and to tell you that "Coco" is doing great. She barely cried on the way home, has eaten well, and slept through the entire first night. She's been eating the dry food so we have not had to use anything else. We are enjoying her so much! Thanks again, and talk to you soon.
God Bless
James and Larisa
---
Me, Jeff, Aidan and the girlies! End of Oct 2005/ Arkansas
The baby girlies…March or April 2004? I couldnt resist…such cutie pies!
Sofie and Sasha in ARKANSAS at Pinnacle Mountain, near us in Little
Rock..oh, its me too! Jennifer
---
Hi Annette,
Sorry for the delay response but I haven't check my e-amil all weekend. Playing with Toby and he is doing fine. He is just too cute. We all love him. Marissa is taking every good care of him and will send you pictures soon. He is going to be one spoiled baby!
God Bless and thank you for this precious baby.
Marissa Viscardi
---
The best kisses come from the sweetest souls. This kiss will melt your heart.
Have a wonderful Valentine's Day!
Love,
Angela and Harley
---
Dear Mom,
Just wanted to let you know that I am doing fine. I am going to potty outside and it is really cold in Ohio! Everyone loves my kisses, and I give plenty of them. My new daddy was really surprised to see me, but he really loves me now. I am sending pictures of me and Corey and my new brother, Georgie. We play tug of war. He didn't like me for two days, but now we are good friends. I am a pretty tough cookie and I don't let him bully me! Tell all of the kids I love them and miss them. I will write again soon.
Love and Licks,
Rudy Valentino
---
Hi Annette,
I just thought that I would let you know that my little baby girl is doing fine. We named her Sophie and she is a mess. I don't know what I did before I had her. She is so smart and cute. She is pooping only outside now, but we have to work a while on the piddle. She knows the "No" command and is learning to sit. I can't believe how quick she is to catch onto things. Anyway, just wanted to pass along to you how she was doing. Thanks for producing such a great little companion!
Melody Winters
---
Dear Annette:
Tipper is doing very well. I weighed him at the beginning of the week and he was three pounds. We are dog-sitting a friend's puppy for Thanksgiving, so he is getting in a lot of social and play time. I've attached one picture of him, but my plan is to send some photos in the mail.
Thank you for caring for him so well. Your excellent preparation with him has shown in how easily he settled into our family life. He has been a happy little boy right from the start and has brought a lot of joy. He continues to go to school with me to the delight of many students. He play wells with our eight-year old Pomeranian (Maggie), who patiently tolerates being bounced on throughout the day. He eats well, sleeps in his crate, and has started going to the door to go potty. We love him very much.
We had a very nice Thanksgiving, and hope you did as well.
In Christ,
Linda Sawanowich
---
Hope these get thru. he is the best boy and so loveable.
I can't thank you enough for the care you must have given him as a baby.
Darlene
---
Isn't he cute !!
Thought we would send you a reassurance photo that "Parti Man" has found a place he seems to be happy !
Jackie Shafer
---
Hello !! Little Winston is doing great and is getting smarter every day. We are so glad we got to make him part of our family. Our Holiday was wonderful I hope yours was as well. We just returned today from a visit to West Virgina and Winston got a lot of attention !! He is walking on the leash pretty good now and is learning the rules to being potty trained. It is just fine with us to post his pictures , we have a few of him on our own little web blog on web-shots. Im not sure what ones I sent you but here are a few Im not sure if you have or not.. Hope you and yours are doing well.
Larry
---
Hello Annette:
I didn't forget you to send you all of the pictures that we have of Misty. As you can see, she has grown into a lovely lady. She is so playful, loving and adorable.
Take care and God Bless you all. Sharon and Larry and of course Misty
---
The love of our life – He sure has completed our family!
---
SHE IS BEAUTIFUL!
HER NAME IS SHADOW.
OWNED BY: DEBBIE FORD
---
Good morning Annette,
What a delightful dog mitzy is. walks on a leash like she has been on one all her life, a regular city dog. greets the neighbors like the wal-mart greeter; each one, one at the time, so as not to forget anyone. she is a little intimidated by the cats, and has to ask permission to pass one, so she frequently gets hemmed up in the kitchen.
I keep my socks in a basket next to the bed, and since the cats did not invite her to sleep on the bed, the sock basket turned out to be nice and comfy. she stayed right there until i went to the bathroom, then she found something to occupy her time, which sounded like it would be detrimental to both her and my clothes, so then she went into the kennel. no problems, no complaints.
this morning she is sitting right under me eating breakfast and being charming. i think we have a winner.
Brenda
---
We picked her up at the airport, she was full of hugs and kisses. She readily came to us and is so sweet. She seems to be doing fine. Acting like any normal puppy would act. The kids want to name her snowbell. Weve only had her this 1 day and I can tell we will love her already. She has such a sweet personality. I was just in the kitchen preparing my casserole for dinner and she came to my feet and stood up on her hind legs begging me to pick her up. Of coarse I had to. Will let you know in a few days how things are going. Thanks ever so much. Love, Deanne
Snowbell is the cutest thing alive, Next week she is getting a playmate. A ice white male pom puppy is coming our way. We certainly are happy with snowbell so hopefully this one will be just as sweet. Will send pics then. Thanks again, Deanne
---
THE PUPPIES ARE DOING GREAT! THE GIRLS HATE LEAVING THEM TO EVEN RUN TO THE STORE. THEY ARE SO PLAYFUL AND ARE GETTING USED TO THEIR SURROUNDINGS NOW. THEY ARE EATING VERY WELL AND USING THEIR POTTY PRETTY GOOD. THEY DON' T LIKE THEIR LEASHES YET WHEN THEY GO WALKING. WE BOUGHT THEM SOME TREATS AT PETSMART THAT IS CALLED FREEZE DRIED ICE CREAM AND THEY LOVE IT! IT SOUNDS YUCKY BUT THE PUPS LOVE IT. THEY FIGHT OVER IT AND BEG FOR MORE. WE LOVE THEM DEARLY ALREADY AND WOULDN'T TAKE ANYTHING FOR THEM. WE TOOK THEM TO THE SCHOOL MY MOM WORKS AT AND EVERYONE FELL IN LOVE WITH THEM. WE ARE TAKING THEM TO THE VET IN A FEW WEEKS FOR THEIR NEXT SHOTS. WE WILL SEND PICTURES TO YOU VERY SOON. I PROMISE YOU THAT WE WILL LET YOU KNOW HOW THEY ARE DOING FROM TIME TO TIME. THANKS FOR THE BEAUTIFUL PUPPIES. THEY ARE THE BEST!!!!
BRIAN, PAM, LOGAN, KALEIGH, CAITLIN, BRYAN RHODES
Here are just a few of our pictures we wanted to share with you. As you can see, we LOVE our puppies. Paris and Roxy are our sweethearts. Also, I sent you a few pictures of Shadow ( the white dog that I adopted) and Sparky ( the black dog that we saved and found a good home for). Aren't they too cute to just give up on? They are such sweet dogs too, just like our Paris and Roxy. Logan and Kaleigh really want to bring the puppies to visit you sometime. Maybe we can work it out soon. Please let me know that you received these pictures okay.
Thanks,
Pam, Logan and Roxy, Kaleigh and Paris Rhodes
---
Dear Annette and Tom,
I just wanted to give you an update on Lucy. She is a doll and a blessing! She has grown to weigh almost 7 pounds, and is very smart (but you knew that already). She is very empathetic and helped to look after me after my surgery this past summer by sleeping on my feet. She is very lively and beautiful. I have finally gotten a digital camera and will down load some pictures to send to you as soon as I figure out how. Again, I just wanted to thank you for my little girl. Merry Christmas and Happy New Year!
Diana
---
Hi Annette,
Ernest here again, I just wanted to give you an update on how nutmeg is doing. She is doing great! She gets along with everyone, although she does like to be the boss. Enclosed I an updated picture of Nutmeg resting after a hard day of play. Boy is she something. Thanks again for letting us have the opportunity to make her a part of our family.
In Christ,
Ernest, Sonya and (Nutmeg)
---
Hi Annette,
We are doing just fine and she has adjusted quite well. She's been eating great and she loves to play. I bought her a play pen for when I'm away at school and she seems to like that pretty good. She loves to look at herself in the mirror! I think she knows how cute she is! I will send you pictures soon. I'm just about to fill out her paper work and send them on there way!
God Bless You!
Thanks so much,
Amanda
---
Hello Annette,
Here are some pics of Raider. He is doing great and we LOVE him. I will send more pictures when we get them. Raider is the best!
Thank you very much for everything and we will stay in touch with more pictures.
Have a great day, Walt Pietrzyk
---
Merry Christmas from Prissy!
---
Hello!
Yes, please post our news and pictures of Joy. We have taken lots of pictures of her! She is such a sweetie and she is filling our days with laughter and smiles!
Joy has become good friends with one of our 5 cats. Our Siamese Mae Ling has a very nice personality. She is very curious about Joy. She also loves Joy's sheepskin beds and has moved into Joy's crate!
Joy wants to play with the big dogs, but she is too little for them and both David and I are very nervous to have her around the other dogs. I suppose with time we will be able to relax and let Joy get to know the big dogs better.
I wanted to share with you how much David and I learned from you when we came to pick up Joy. All the tips you gave us when talking to us and the written literature you sent home with us is so helpful in taking good care of her. David and I are so impressed with your services to your "forever home" families.
I have shared so many of your care tips with the nurses I work with at Chesapeake General Hospital in Chesapeke, VA. I think I told you I am a Registered Nurse and work in a group of lactation consultants on our Mother and Baby Unit, Nursery and Special Care Nursery. I can't tell you how many people are going to use the "hot water bottle" for their animal babies! Our nurse educator has an older cat that is very skinny and she is going to use the "system" for her during the winter months! Thank you for sharing so many wonderful techniques and ideas to help us give excellent care to our babies!
Joy is now "paper" trained". She has been very good about getting to her "pad" to do her business. We are doing the crate training with her. David and Jonah are leaving the crate traing strictly to me. They don't have the courage to tell her "no". The first few times I told her "no" I was very close to taking her out of the crate and forgetting the entire process. Well, each time she goes in she has to have "her say" and after a few gentle "nos" she settles down, looks at me with those big eyes and then drifts off to sleep for a bit.
David and I are going to fly to Atlanta at the end of the month and spend a week at our cabin in the mountains in Blue Ridge, GA. This will be during a break between David's radiation and chemo therapy. We are taking Joy along with us! She can go in the cabin with us and I was so excited about that!
Joy is turly my baby. I have spent lots of time with her. I work 20 hours a week. On the first day I worked and was away from her David called me to tell me she was looking for me. When I arrived home and went through the door I started talking and calling her name and she just ran and wiggled her way to me. It was so neat.
I am glad to hear that your husband is doing better! Presently I am at work and don't have access to Joy's pictures. I will forward from home this evening.
Blessings!
Linda
Hello Annette!
Today Joy had her 12 week check up at our vet and she received her immunization. I want to let you know she weighs 2 pounds and .09 ounches! She is getting taller and longer too! She continues to be a sweet little girl. Absolutely everyone at the vets office had to take a peek at Joy and oohed and ahhed over her! She was showing off her sweet personality. She is so much fun for us. We are in love with her! She is a blessing to our family!
Linda
Joy has brought up so much happiness and so many smiles!
As Ever,
Linda Heller
Hello Annette,
Today we are celebrating Joy's first birthday! The pictures I have enclosed are when she was about 8 months old. She is the love of our lives! She keeps us smiling with her antics. Joy loves to dress up in the clothes I sew for her. Joy has brought up so much happiness. We are so glad she is part of our family!
I check out your web site often and I must say the new puppies are darling! I am thinking that Joy might like a little sister!
Blessings!
Linda and Joy Heller
---
Beeboop is doing very well. I will send you pictures of her. She thinks that she must be carried everywhere. Her best friend is the mighty Diesel. He weighs a total of 3 lbs. She sleeps with me at night and plays with him during the day. Thank you so much for her she is truly a blessing to our family.
Here are some up dated pictures of Betty Boop and her boyfriend The Mighty Diesel. I don't think that we are going to be able to breed Beeboop with Diesel because she is 3.2 lbs and he is 5.2 lbs. She is now 5 mos old. He is 7 mos old.I hope all is going well.
Gina Stebbins
---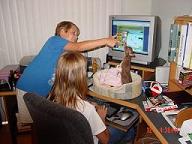 Hey Annette,
Here are some more great pictures of Chiquita!! She is sooooo precious and so happy. She is another spoiled puppy, but there is nothing wrong with that. We just love her to death and she is so much fun. A great addition to the family!!
Kathy
---
Hello Annette,
Just wanted you to know how well Whitney is doing. She is just a precious little thing and she is learning vary well. The kids just love her and, Foxy treat's her as if she were her own.Well, have to go to work and get the baby,s ready they go to work with me everyday.
Sally
---
Annette,
Coda is an exhausting and wonderful joy. He is absolutely the cutest thing and loves to aggravate his best buddy, Pepper. Everyone thinks Pepper is his dad. He sleeps on Peppers tail during the day. We just love him and he is such a well adjusted little thing. I need to set up some time for his set of shots which are due now. If I don't hear back from you online, then I'll call and find out when we can come by for a little bit.
Barbara Drummond
---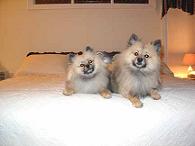 Annette
Here are a couple of pictures of Bandit and Sable at 1 year old for your records and enjoyment. Of course you will be seeing them in person very soon.
Charlie
---
Hey Annette,
I know you haven't heard from me in FOREVER, and I happened upon your website accidentally tonight and thought I'd send a line to say hello! Schatzie and I are doing wonderful here in Alaska. We have settled in well, and are acclamating very well to the climate! Actually, the summers here are remarkable! Schatzie is as great as ever, he has been my pride and joy since the day I bought him home with me. Hard to
believe he is 3 years old now! Well, I've been looking to expand our little family, I'm looking for a girl, preferably a parti, but I'll know the right one when I see it! Anyway, here are a few pics of
Schatzie, I thought you might like to see the boy all grown up! I hope the family is doing well. Hope to hear from ya soon!
-Steven
---
Here is my beautiful baby!(Lilo) She is getting so big now! She is the sunshine in my every day…when I'm having a bad day, she's always there to put a smile on my face! Thank you so much for giving me that chance to have this little girl in my life…she's changed it so much already!
Laura Barnes